본문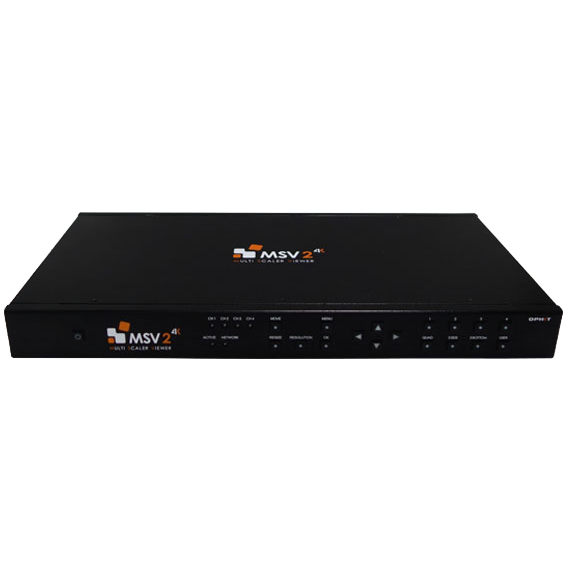 Product description
4K Multi Scaler Viewer
MSV2 is an advanced video processor for multimedia presentations.
It is a video signal processing device that can one output of 4 input video signals to one video display device
and provides 4 screen output modes.
4ch Inputs of MSV2 have 2 HDMI ports and 2 selectable ports(HDMI or DisplayPort),
the user can select the input video the DisplayPort 1.2a or HDMI 2.0 Basically,
it supports various output resolutions including up / down scale and supports seamless channel change.
Features
▪ Full range of input and output format (Up to 4K@60Hz)
▪ 4 preset modes and 5 user modes
▪ HDMI 2.0, DisplayPort 1.2a Compliant
▪ Supports DisplayPort 1, 2, 4 lanes
▪ Supports HDMI 1.4 / 2.0
▪ Compliant with HDMI 2.0, data rate up to 6Gbps
▪ HDCP 1.4 / 2.2 Compliant
▪ User control : Web, OSD, RS232
▪ 1U Rack type
• Input and Output Signal : Input - HDMI x 2
- HDMI / DP x 2 (User Selection)
Output - HDMI x 1
• Dimension : 436(W) x 44(D) x 213(H)mm
• Color : black, ivory
• Maximum Supporting Resolution :
4096x2160@60Hz
• External Power : 12V / 5.00A (2.5ø DC JACK)
• Power Consumption : 25.2W (Typ)
• Operating Temperature Range : 0℃ to 40℃
• Storage Temperature Range : -20℃ to 70℃
Package
• MSV2
• 1 Power Adapter
• 1 Power Cord
• User's manual